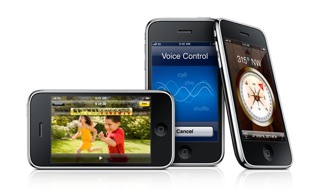 Announced on 08 June 2009 at the Apple WWDC (World Wide Developers Conference) the iPhone 3G S (S for Speed) comes in two models of either white or black and 16/32GG and will retail in the US for $199/$299 with a new service contract from AT&T.
Over on this side of the pond with O2 the cheapest way to get the 16GB version on contract over 18 months is with a GBP29.38 contract and a pay-in of GBP184.98.
Externally the device is the same as the previous iPhone 3G but all the good enhancements are under the hood.
Hardware
The Fastest iPhone Ever

Most system features are up to 2x faster than before. This actually makes multi-app cut/copy/paste a reality. Safari now also process Javascript in a flash.
This would be thanks to the 256MB RAM (up from 128) and the 600Mhz processor (also up from 412Mhz)

Video

VGA video capture, editing and uploading (email, MMS, MobileMe and YouTube)

3-Megapixel Camera

Built in auto focus and software to assist in focusing objects

Compass

Assists the maps application to show you exactly which way you're facing
Software (via OS 3.0)
Voice Control
Cut, Copy & Paste
Landscape Keyboard
Internet Tethering