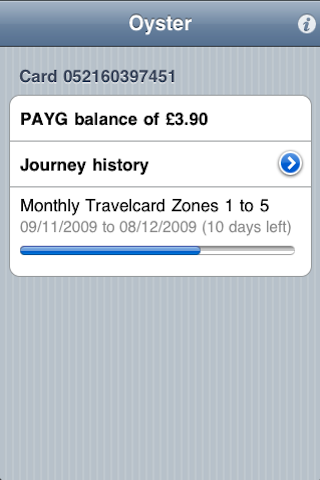 You swipe your Oyster card ... the reader flashes red. Doh! Grumpy commuters flash dirty looks and push past you ... how embarrassing!
If only you'd known your balance was too low.
Introducing Travel Check - the iPhone app that checks your Oyster balance and journey history. With Travel Check you can keep an eye on:
Your pre-paid Oyster balance
View your travelcards and expiry dates
Check your pre-paid Journey History
See how much you paid for each leg of your journey
With Travel Check you can see exactly where and when your card was used (this is also a useful feature for those party animals who can't remember how they got home last night!)
As a pre-paid user, you'll be familiar with wondering where all your money went. Well now you need wonder no more ... with Travel Check you can see exactly how much you paid to get from Piccadilly to Victoria.
Travel Check - Available on the AppStore
As with all applications errors do occasionally crop up - so if you've got any problems please email me, alistair@0gravity.co.uk, and I'll make sure your issue gets resolved!
FAQ's:
I'm having problems logging in, what can I do?

Why is there no journey history?

Journey history is only available for pay-as-you-go journeys purchased online. The history will cover tube and bus journeys but currently there is no data available for season ticket or travel card purchases. You can always double check this by logging into the TfL Oyster site and comparing the journey history shown there with that on the app.

What do the icons on the journey history page represent?

There are three icons you'll come across. A red arrow indicates an exit from a tube station. A green arrow shows an entry to a tube station and/or bus. A "£" icon represents an auto top-up.

Why does the journey cost look a little odd on the journey history?

Upon entering a tube station an initial amount (usually £6) is automatically deducted from your balance. This will show up as '- £4' When you exit the tube station. If your trip cost cost less than this amount, you'll be refunded the difference (which will show up as a positive amount). Weird, we know!

I've logged in but the display is a little funky with lots of code showing. What's up with that?

Oops that's definitely not meant to happen and probably means there's a gremlin on the loose. Contact alistair@0gravity.co.uk and we will fix it in no time!

My Pay-As-You-Go balance or season tickets are not showing correctly.

There's something else I'd like to chat about

I'm always here to help and would love to hear from you so drop an email to alistair@0gravity.co.uk and I'll be in touch. Remember that I can't reply to feedback that's left on iTunes so if you have a problem please contact me directly. Oh and if you have any suggestions or feature requests, please send these through!

Please note that

This application is in no way authorised, endorsed or affiliated with TfL/TranSys. The Terms "Oyster" and "Oyster Card" are a trademark of TranSys.
By using this application you authorise that login information is transmitted to a third party via means of a secure connection.